PRIVATE LESSONS
Olivia Jones
Olivia Jones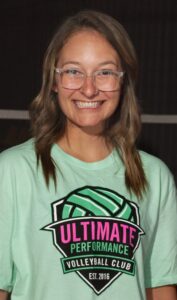 Assistant Coach
Coach Jones is a former 4 year letterman from Sapulpa and started playing volleyball when she was 12. While on the Sapulpa High School varsity team Coach Jones served as a captain and was also coached by 16 Adidas National Head Coach, Shelly Bart.
Coach Jones is entering her 5th season at Ultimate and has also coached middle school teams at Jenks. Coach Jones isn't just the 12 Adidas National Head Coach, she also is in charge of all the gear and social media!
Coach Jones works as an Orthodontist Assistant at Tangelo Orthodontics, right outside of Jenks.
In her spare time, you can find Coach Jones watching college football, binge watching a murder mysteries, eating Mexican food or hanging out with her friends.
Please use this form to contact the coach to schedule a private lesson with Ultimate Performance Volleyball Club.
During Season –
November to May, our teams practice takes priority.
Monday through Thursday –
practices are scheduled from 5:00 to 10:00pm
Friday – Open to Scheduling
Saturday – Open to Scheduling
Sunday - Open to Scheduling
We also have open courts during Holiday Season dates when teams have optional practice times.
Reach out to us to find available open court times.