PRIVATE LESSONS
MISSY McCAW-FRETTE
Missy McCaw-Frette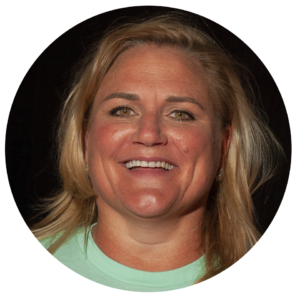 Club Founder & Director
Head Coach // 15 Elite + 18 Elite 
Missy grew up in Tulsa, OK and graduated from Bishop Kelley High School in 1990. Missy was selected to the all state volleyball team for four years and was the MVP of the state tournament in 1989 and 1990 when Bishop Kelley won state. She was selected to Volleyball Monthly's Fab 50 recruits  her senior year and was a Volleyball Monthly High School All American. Missy played club for Mid-Cities(now TAV) out of Dallas, TX from her sophomore  thru senior year. In 1990 at the USA volleyball junior nationals, Missy was selected as a first team All-American as an outside hitter.
Missy accepted a full ride volleyball scholarship to the University of Southern California where she was the starting setting for four years. Missy still ranks 6th in all time assists(1323) and 7th for service aces (40). She graduated in 1995 with a Bachelor's of Business Administration focusing in Finance and Human Resources.
In the fall of 1995, Missy returned to Tulsa, OK where she assumed the interim head coaching role at Bishop Kelley High School.  After the high school season ended Missy moved to Joplin, Mo with her now husband David Frette. After moving to Joplin, Missy accepted the assist coach position with Missouri Southern, a division II college in the Missouri Valley conference.  Missy coached two seasons with Missouri Southern before moving back to Tulsa in 1998.
From 1998 to 2003 Missy coached club volleyball for T-Town and Team Tulsa volleyball clubs. In 2003 Missy had her daughter, Emma and decided to step away from coaching club. Instead of spending her time coaching she turned her attention to raising funds for various non-profits in the Tulsa area. Missy currently sits on the Board of Directors for Leadership Tulsa, Clarehouse, and OK Region Volleyball Association.  She also spent six years on the Arts and Humanities Council board and ran the Art of BBQ for 8 years,  a national BBQ competition.
Missy has been a collegiate volleyball referee since 1999.  She has refereed Division I, II and NAIA matches for  the Big 12, Conf USA, Summit and Sunbelt conferences.  Missy is currently an agent for New York Life, assisting individuals with building a stable financial future.
Missy comes from a volleyball family. Her mother, Peggy McCaw, was a collegiate and high school coach before starting club volleyball in the Tulsa, OK area.  She sent over 15 guys to college on full or partial volleyball scholarships.  She had three of her athletes participate on the USA Olympic Volleyball team: Chip McCaw, Ethan Watts and Scott Larkin. Chip is Missy's brother who attended Pepperdine University on a volleyball scholarship and won a National Championship his sophomore year(1992). Chip went on to play in the 2000  Olympics in Sydney Australia.  After the Olympics he switched to beach volleyball where he spent 5 years playing on the AVP and FIVB volleyball beach circuit.
Missy has been married for 22 years to David Frette, a former Div. I volleyball player for The Ohio State University. Missy has two children, Emma and Lars.
Please use this form to contact the coach to schedule a private lesson with Ultimate Performance Volleyball Club.
During Season –
November to May, our teams practice takes priority.
Monday through Thursday –
practices are scheduled from 5:00 to 10:00pm
Friday – Open to Scheduling
Saturday – Open to Scheduling
Sunday - Open to Scheduling
We also have open courts during Holiday Season dates when teams have optional practice times.
Reach out to us to find available open court times.