Ultimate Performance Volleyball Club was formed to teach both fundamental and advanced athletic skills as well as life lessons to young athletes in an environment that promotes excellence in all things.
The Ultimate Performance Volleyball Club, founded in 2016 by Missy McCaw-Frette, is a family-owned and operated business.  Believe us when we say, our family knows the business of volleyball inside and out.  And as much as we have seen and experienced firsthand, it is our goal to keep evolving this club in a way that allows us to share the latest techniques in skill development from the fundamentals to the most advanced athletic skills as we seek to create a safe environment for young athletes to learn and grow.
"My life was enriched through my experience as a competitive volleyball athlete, opening new doors to my education as a student-athlete at the University of Southern California, meeting new and lifelong friends, and developing leadership skills that have benefitted me on the court and in my business life.   Both my husband, Dave, and I were collegiate student-athletes competing at the highest level.  Now, we are passing down what we learned to our children, Emma and Lars, and to yours through our efforts with Ultimate Performance Volleyball Club." 
Missy McCaw-Frette, Club Director/Owner.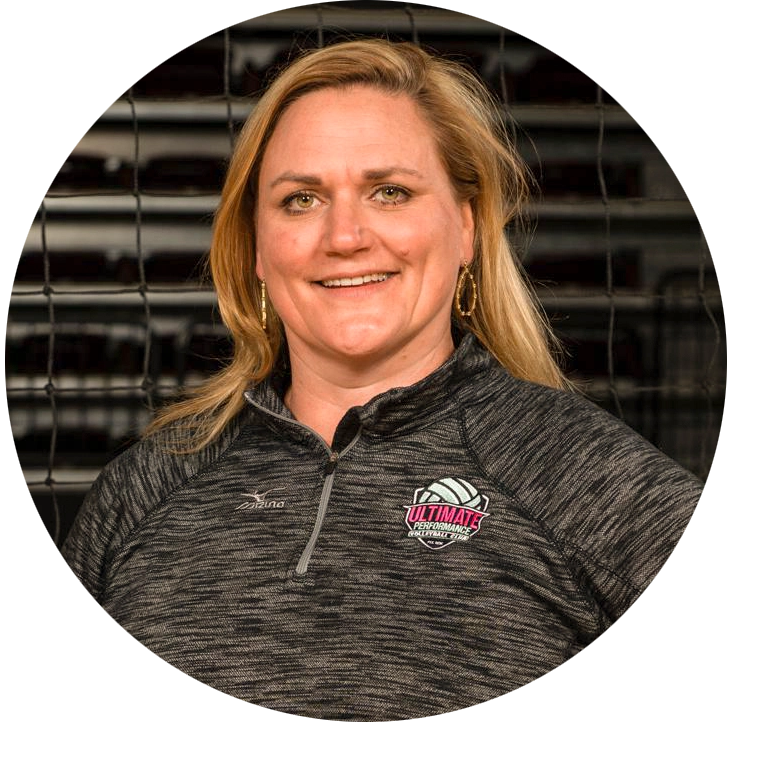 MISSION
We built the foundation of the Ultimate Performance Volleyball Club on a strong belief that sport intersects with life.  That the lessons we learned as young athletes on the court were also as important in our everyday lives.  Learning to work well with others as a team.  Learning to communicate.  Learning the importance of hard work, perseverance, and sportsmanship.  And most of all, learning the value of loyalty and commitment in maintaining the highest level of ethical behavior when dealing with both adversity and success.
Our 17,000 square foot training facility is a place where we develop people as well as players, in an environment promoting positive reinforcement, encouragement and motivation along with a healthy dose of discipline and respect.  Where we hope our athletes will develop the same passion for volleyball as our family has over the years, sharing memories together enjoying the sport of volleyball as our parents taught us.  Adopting a philosophy of leadership where we learn by example and strive to maintain the highest level of competitive excellence as a team. And to remember that at the end of the day, when the net comes down and the balls are put away, our actions as people speak loud and clear.
From top to bottom, Ultimate Performance Volleyball Club maintains a consistent coaching philosophy designed to integrate 150+ years of firsthand playing, coaching and administrative expertise.  Our coaches continuously seek professional advancement through their participation at all levels of volleyball, from the youth development programs, to high performance, collegiate, and national team involvement, and even at the professional and Olympic level.
Our focus is on the athlete's experience and well-being.  Our goal is to share the information we have learned through firsthand experience.  Our hope is that you and your family will find a passion for volleyball and make lasting memories together just as our family has done for over 37 years.
POLICY
UPVBC abides by Safesport guidelines as presented by the USOC for all governing bodies. It is mandatory that all UPVBC coaches and staff have been Background Screened and SafeSport certified. UPVBC has a zero tolerance for bullying and harassment of any kind (i.e)peer to peer, coach to player, parents to official and or coaches. If you have a SafeSport concern or need to file a report (in our local area or at an event) please contact the UPVBC staff with questions/concerns.
During Season –
November to May, our teams practice takes priority.
Monday through Thursday –
practices are scheduled from 5:00 to 10:00pm
Friday – Open to Scheduling
Saturday – Open to Scheduling
Sunday - Open to Scheduling
We also have open courts during Holiday Season dates when teams have optional practice times.
Reach out to us to find available open court times.