Yamiq Bennett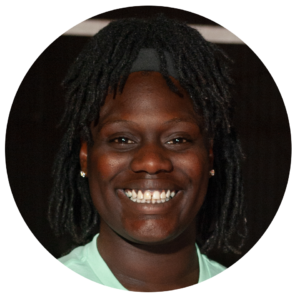 Head Coach // 15 White
Yamiq Bennett (Coach B) is originally from Los Angeles, California. She has been married for 3 years with a 4 year old daughter (Braylin). She graduated from Vista Del Lago HS, in Moreno Valley, CA, where she earned 1st team her junior year and ranked nationally her senior year. She was the first at her HS to rank #1 in the southern section in blocks, #3 in blocks for California and #7 for blocks in United States.
She has been playing since 5th grade and Coach B Started her junior and senior year of high school and continued coaching coaching 6-8 graders her freshman year in college where she attended Fort Scott Community College in Lindsborg, KS, then transfered to San Bernardino Valley College in California, last but not least she finished her career at Bethany College while studying Criminal Justice and Psychology.
She moved to Texas after having her daughter and started coaching at Texas legacy Volleyball club where she played an important role coaching the developmental and skill camps for 6-9 year olds. She now coaches the Freshman team at Metro Christian Academy and This is her 2nd year with Ultimate. Coach B has coaching experiences in giving private lessons, assisting/running camps and clinics throughout her career.
During Season –
November to May, our teams practice takes priority.
Monday through Thursday –
practices are scheduled from 5:00 to 10:00pm
Friday – Open to Scheduling
Saturday – Open to Scheduling
Sunday - Open to Scheduling
We also have open courts during Holiday Season dates when teams have optional practice times.
Reach out to us to find available open court times.